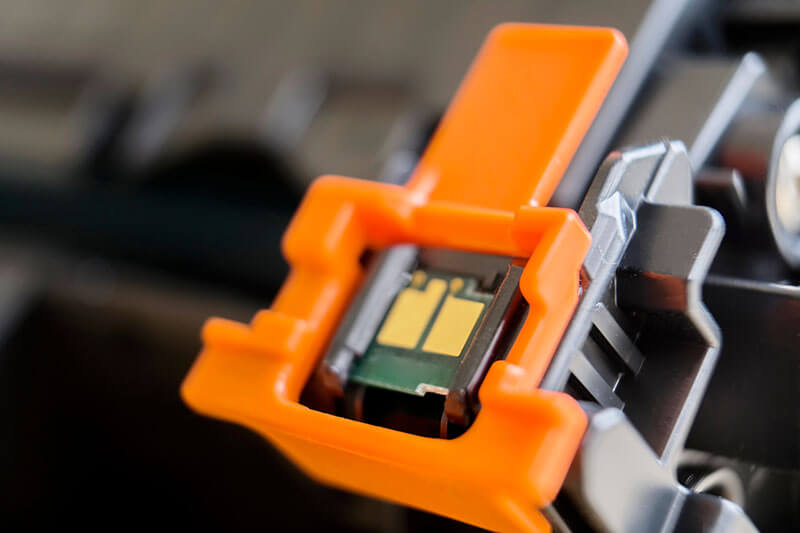 Most toner cartridges are equipped with chips. A Chip is the ID card of a toner cartridge. A machine recognizes the identity of the toner cartridge by reading the chip data. A failed chip might lead to an unrecognized issue, a toner gauge issue, and so on.
To ensure that the chip on the cartridge matches the machine, we have formulated a set of SOPs to test and standardize products during the development stage. We simulate the conditions that most users may encounter in their regular usage. The content of the tests includes monitoring the percentage of the toner gauge, the matching with the cartridge, and messages on the machine to avoid the presence of any relevant issues when users use Cartridge Web cartridges.

Different Chip Quality Tests Cartridge Web Performs
Installation Test

This test simulates the situation to replace an OEM cartridge with a CW cartridge and vice versa, making sure the premium compatibility between CW compatible cartridges and OEM cartridges.

Test Method: Match black, cyan, magenta, and yellow cartridges of both CW and OEM to test with sixteen possible combinations and observe whether the machine reads the chip data of the cartridges. If there is any data error or unreadable situation, chips are determined as a failure.


Paper Jam Test

This test simulates whether CW chips can be identified by the machine after a paper jam or a forced shutdown.

Test method: Use B, C, M, and Y cartridges of CW. Force a paper jam during printing. Next, eliminate the paper jam before resuming printing. If the machine shows an error message or if it cannot read the chip, it is determined as a failure.

Normal Printing Test

This test operates the printer normally. We will print 5% manuscripts of ISO 19752 for monochrome or ISO 19798 for colour models until the machine displays "TONER EMPTY". During the test, we will keep tracking the remaining toner in the cartridge to see if it matches the data from the chip.

Test method: First, use B, C, M, and Y cartridges of CW. Record the toner gauge and the amount of remaining toner in the cartridge per five hundred to ten hundred pages. Then, check whether the amount of toner matches the toner gauge. Also, check whether the machine displays the message of replacing the cartridge as it should.


Higher Coverage Test

This test operates with a more rigorous condition - alternate the printing of the ISO 5% manuscripts and the ISO 15% manuscripts. We will track the toner gauge and the remaining amount of toner in the cartridge.

The test method of it is the same as the normal printing test.
Cartridge Web insists on providing OEM-equivalent compatible toner cartridges. Through strict quality standards and processes, we keep supplying consistent and premium toner cartridges to our clients. If you are interested in Cartridge Web compatible toner cartridges, please contact us via info@cartridgeweb.tw. Looking forward to hearing from you soon!