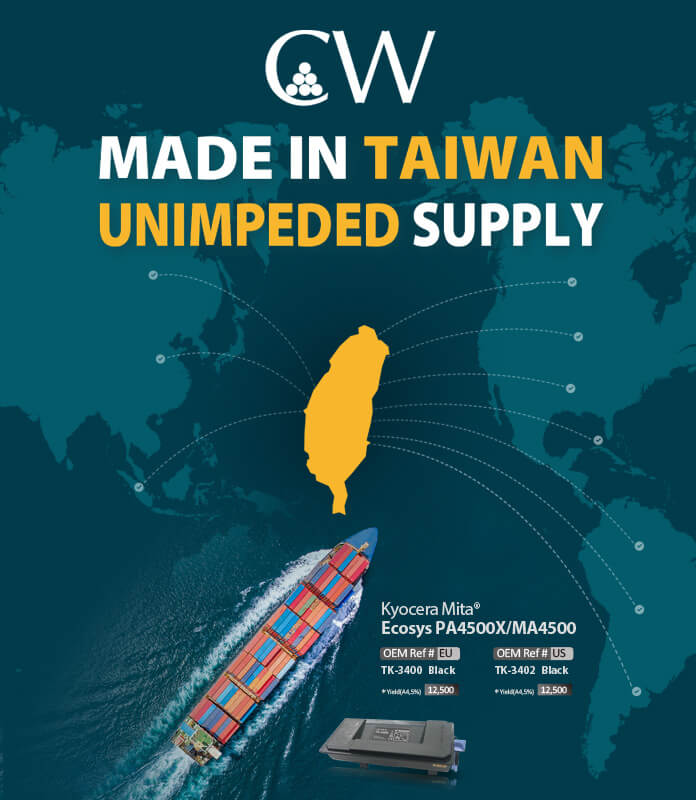 Lingering Nightmares of Global Supply Chain Breakdown
Most of us have been no strangers to the world supply chain breakdown in the past few years, which can be attributed to the prevalent COVID-19 lockdowns, severe labor shortages, and the ruthless Ukrainian-Russian War. Fortunately, global logistics will be more stable in 2023.
Unimpeded Supply from Cartridge Web
Cartridge Web has strived to keep supplying our clients during the past few years. Except for the back-to-normal supply chains, one of the reasons that Cartridge Web products are internationally acclaimed is attributed to our respect for the OEM patents, making us no issue to do business with different markets, especially in those where the OEM reviewing intellectual properties more meticulously. Our engineers cautiously study the patents and design the products without infringements in the stage of development. Same as our newly launched TK-3400 compatible toner cartridges for use in Kyocera Mita Ecosys PA4500x/MA4500 and TK-3402 for use in Kyocera Mita Ecosys PA4500x/MA4500/MA4500I all CW products have been attentively designed, and are available in our warehouse in the Netherlands or from the factory in Taiwan.
Get the Unimpeded Supply