Cartridge Web Is a Compliant Toner Cartridge Manufacturer Including RoHS, DecaBDE, and REACH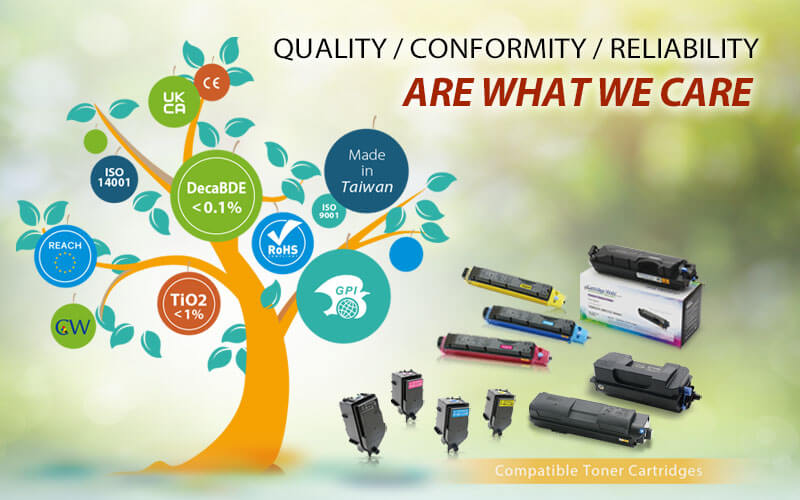 Recently, Europe had news regarding some compatible toner cartridges containing unacceptable levels of DecaBDE being supplied to the market. From the news, we can learn the importance of choosing your supplier wisely.
What is DecaBDE?
DecaBDE is a material specified in REACH (Registration, Evaluation, Authorisation, and Restriction of Chemicals) and RoHS (Restriction of Hazardous Substances in Electrical and Electronic Equipment) as a hazardous and persistent pollutant. It was first invented as a brominated flame retardant for use in electronic products, textiles, and adhesives. According to animal tests, DecaBDE may cause possible health concerns or effects on human bodies such as the liver, thyroid, and nervous system.
Conformity Is What Cartridge Web Care About
Cartridge Web and General Plastic Industrial Co., Ltd has been manufacturing and supplying premium compatible toner cartridges for several decades. Choosing us means choosing a sense of security. We declared that our products are compliant with REACH and RoHS standards. The test results by TÜV Rheinland and SGS show that the DecaBDE concentration of our products is in line with RoHS regulations: less than 0.1%. The concentration of TiO2 is also less than 1%. All in all, Cartridge Web is a reliable partner when it comes to premium toner cartridges. Quality, conformity, and reliability are what we provide to our customers. Leave us a message to talk further about business opportunities!