New Addition of Compatible Toner Cartridge for Kyocera Mita Ecosys PA2100c/MA2100c (TK-5432/TK-5442)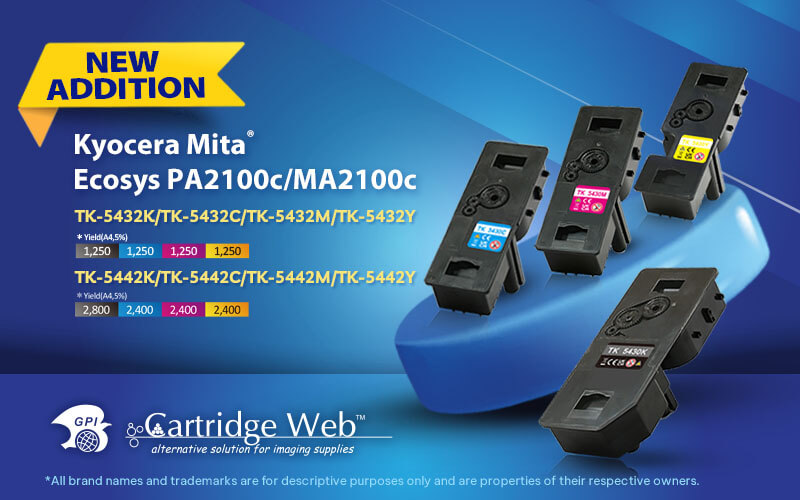 We are excited to announce the launch of our new compatible toner cartridge, designed specifically for use in Kyocera Mita Ecosys PA2100c/MA2100c (TK-5432/TK-5442) printers. This new product is the perfect alternative to OEM cartridges, offering distributors and dealers superior quality at a more competitive price.
Cartridge Web's compatible toner cartridges are designed around patents, life-tested, and compatibility-tested with OEM. These ensure that our products are of premium quality and meet all our quality standards while being IP-friendly. This attention to detail sets us apart from other aftermarket competitors.

Our new Kyocera TK-5432 compatible toner cartridges and Kyocera TK-5442 compatible toner cartridges are manufactured in an ISO9001-certified factory in Taiwan, ensuring consistent quality and reliability. We are confident that this new product will meet and exceed your expectations, providing you with the best possible solution for your business needs.

To learn more about our new compatible toner cartridges, please visit our product page. Our new products are ready to receive make-to-orders so please be sure to contact your CW account manager or send us a message via Contact Form for more information.

Cartridge Web is committed to providing you with the best possible products and services. Thank you for your support, and we look forward to serving you soon.